How You Can Help
Little Free Libraries are the take a book, leave a book kiosks you often see near parks or elementary schools, especially in low-income neighborhoods.
The Kids' Book Bank supports over 120 Little Free Libraries in low-income Cleveland neighborhoods. Books fly out of these kiosks, and we rely on volunteers to help us keep them stocked—it's a great family activity!
Fill Little Free Libraries—grab some books, gather the family, and spend an hour or two stocking some Little Free Libraries. Learn more.
Are you handy? Little Free Libraries endure a lot of wear and tear, and we often need volunteers to do repairs. Email Judy Payne if you'd like to help.
Sponsor a Little Free Library—for a suggested donation of $500, you can sponsor a new Little Free Library in a Cleveland neighborhood that we will keep stocked with books! Specify "Little Free Library" in the donation comments.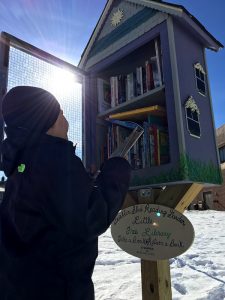 How Little Free Libraries Got Started
Little Free Library is a nonprofit organization that inspires a love of reading, builds community, and sparks creativity by fostering neighborhood book exchanges around the world.
Started in 2009 in Hudson, Wisconsin, there are now more than 90,000 Little Free Libraries in all 50 states and 90+ countries.
Through Little Free Libraries, millions of books are exchanged each year, profoundly increasing access to books for readers of all ages and backgrounds.
"I really believe in a Little Free Library on every block and a book in every hand. I believe people can fix their neighborhoods, fix their communities, develop systems of sharing, learn from each other, and see that they have a better place on this planet to live." -Todd H. Bol, Little Free Library Founder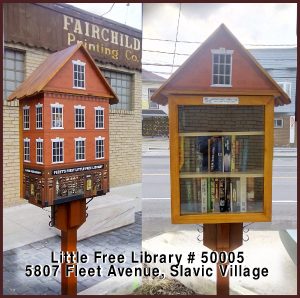 Cleveland Little Free Library Movement
2012 — Community volunteer Bob Cheshier began placing Little Free Libraries near Cleveland elementary schools in low-income neighborhoods to foster a love of reading by making books accessible to children who didn't have books in the home.
2013 — When Bob passed away, the Cleveland community wanted to carry on his legacy. Journalist, writer, and literacy advocate, Margaret Bernstein, organized a fast-growing movement by partnering with Cleveland Public Library and other literacy-minded organizations and individuals to further Bob's mission—and the Cleveland Little Free Library movement was born!
2014 — Cleveland Kids' Book Bank co-founders Judy Payne and Judi Kovach were active in the Cleveland Little Free Library movement, and by fall 2015 they realized the demand for books was greater than what the Little Free Libraries could fulfill.
2016 — The Cleveland Kids' Book Bank opened its doors to distribute more books on a larger scale throughout Greater Cleveland including maintaining over 120 Little Free Libraries.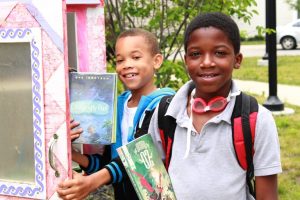 "I have seen children that struggled in school embrace the [Little Free] Library and treasure the books they find, often bringing them back to me to show me sight words they recognize.  We have seen a measured improvement in literacy – both academically and emotionally – in the families here at PNC."
–Susan Blasko, Program Facilitator, PNC Fairfax Connection