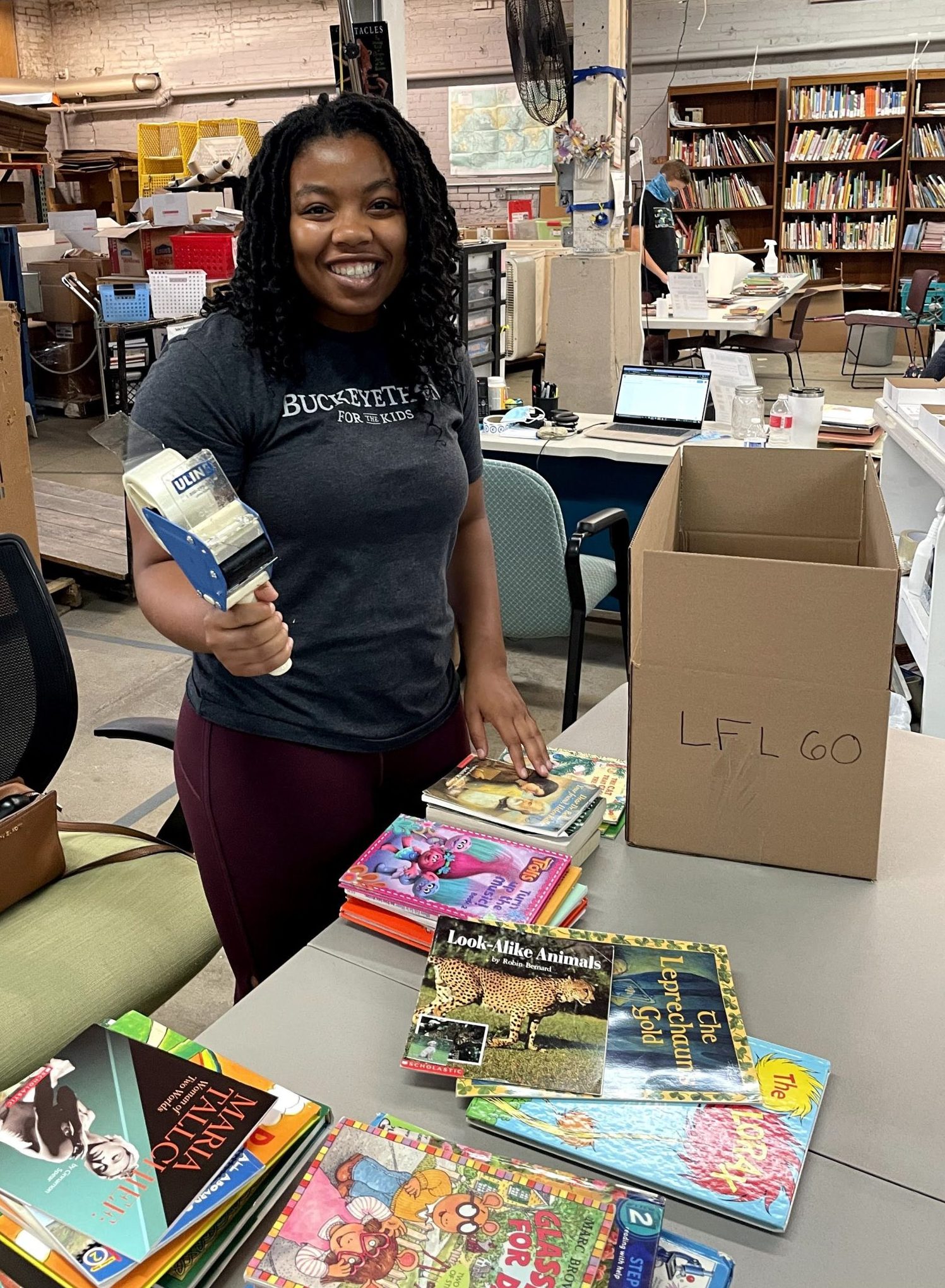 On-Site Volunteering in Our Warehouse
We welcome individuals (ages 13+) and groups of up to 20 people to sort and box books during our scheduled shifts. Browse, batch, and box books for distribution to organizations serving children and families in need. You'll enjoy reminiscing with other volunteers about your favorite childhood books as you dig through hundreds of books and prepare them for young readers to discover.
Volunteers will be assigned tasks upon arrival and will work among other volunteers. If you need or prefer extra social distancing, please let us know when you arrive so we can ensure your comfort.
Questions? Visit our FAQ section.
Coming with a group? Please use the group request form below.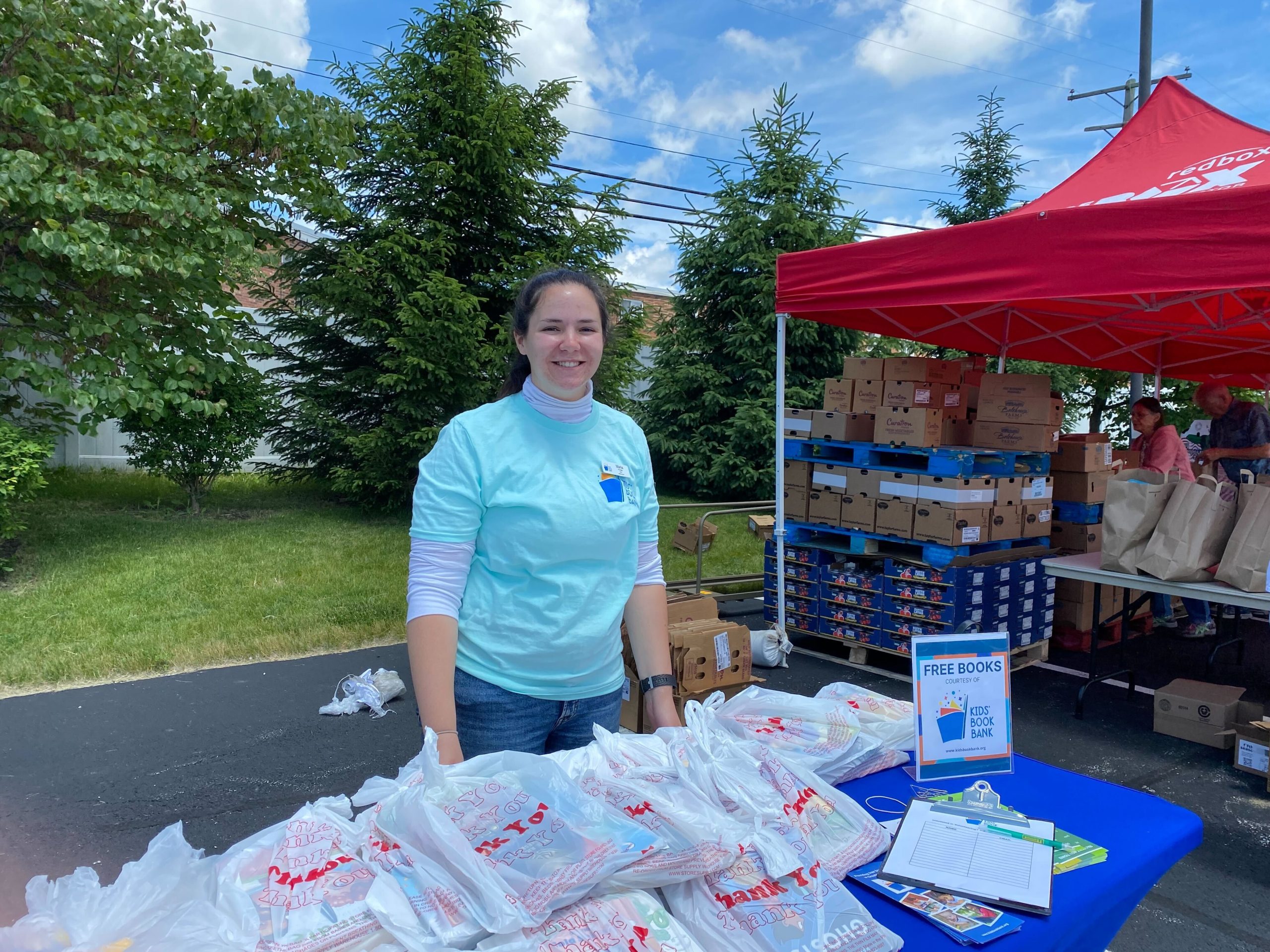 Off-Site Book Distribution
Individuals (18+) can volunteer to represent the Kids' Book Bank at community events. You will support a staff member or Kids' Book Bank Volunteer Ambassador at these events, assisting kids and families in choosing free books to take home.
Most of our off-site opportunities are in the summer. Please check back here for availability and to sign up.
Is there an age requirement to volunteer?
Yes. Volunteers in our warehouse must be 13 or older. Volunteers ages 13-15 must be accompanied by an adult chaperone. Volunteers for off-site distribution events must be 18 or older.
For questions, or for suggestions on how younger children can get involved, please contact volunteer@kidsbookbank.org.
How long is a volunteer shift?
Book sorting and packing shifts last two hours. Off-site volunteering hours may vary and are listed on the sign-up form.
When can I volunteer?
We have scheduled shifts Tuesday through Saturday—every day that we are open! There is at least one shift per day, with two shifts certain days. For a comprehensive schedule of upcoming shift dates and times, or to sign-up, please visit our volunteer sign-up form.
How do I sign up for shift?
To sign yourself up (or a group of six or fewer people), please visit our volunteer sign-up form. Each shift is capped at 10 participants to ensure social distancing, so if you don't see an available slot right away, keep scrolling! Shifts are normally posted several months in advance.
For groups of more than eight, please submit a group request form.
Can I volunteer with a group?
Absolutely! Group volunteer shifts are a great team-building experience. To request a volunteer shift for your group, please complete the group volunteer request form, and one of our staff members will get back to you.
Where are you located?
The Cleveland Kids' Book Bank is located in MidTown. We are one street north of Chester Ave., between E. 36th and E. 40th Streets at 3635 Perkins Ave. You can find detailed directions here.
Where should I park?
There is ample free parking in the lot adjacent to our building. Drive to the back of the lot, and you'll enter through the door to the left of Loading Dock B. See our detailed directions for a helpful photo.
What will I be doing during my volunteer shift?
Having lots of fun and meeting wonderful people! You can also expect to handle hundreds of books as you check them for condition, sort them by reading level, and box them for distribution to our partner organizations.
A brief training is provided at the start of every shift.
Sorting and packing books requires standing for extended periods of time. Some tasks may be completed while seated.
What should I wear?
Please wear comfortable clothing and closed-toe shoes. Sorting books can be dusty work, so please keep that in mind. You'll be working in a warehouse environment, and it can get warm in the summer and cool in the winter, so please plan accordingly.
Is there anything I should bring with me?
KIDS' BOOKS! We are always in need of book donations. Ask your friends/coworkers/neighbors if they have any gently-used children's books they'd like to donate, and bring them with you when you come.
We have water available, but many volunteers bring their own water bottles.