We Can't Do It Without You
Volunteers fuel our operation. From sorting and packing books in our warehouse, to stocking Little Free Libraries, to running a book drive to benefit the Kids' Book Bank, there are meaningful opportunities for individuals and groups of all ages to make an impact. Read what we are doing to maintain social distancing and safety in our warehouse as a result of the coronavirus pandemic.
Scroll down to see the ways you can get involved!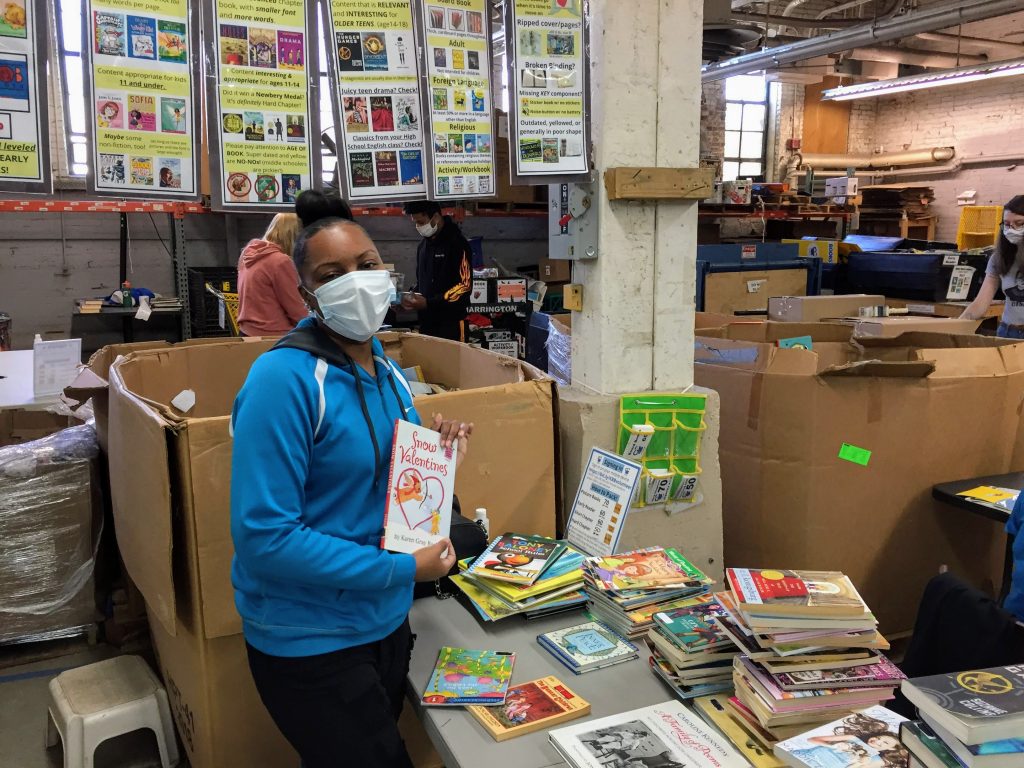 Prepare Books for Distribution
We welcome individuals (ages 13+) and groups of up to 10 people to sort and box books during our pre-scheduled shifts. Browse, batch, and box books for distribution to organizations serving children and families in need.
Volunteers have their own dedicated work stations (6 feet from other work stations) outfitted with cleaned and sanitized tools including tape gun, scissors, etc. Volunteers will work from their own gaylord (huge box of unsorted books) during the shift.
You'll enjoy reminiscing with other volunteers about your favorite childhood books as you dig through hundreds of books and prepare them for young readers to discover. Coming with a group? Please use the group request form below.
Questions? Visit our FAQ section.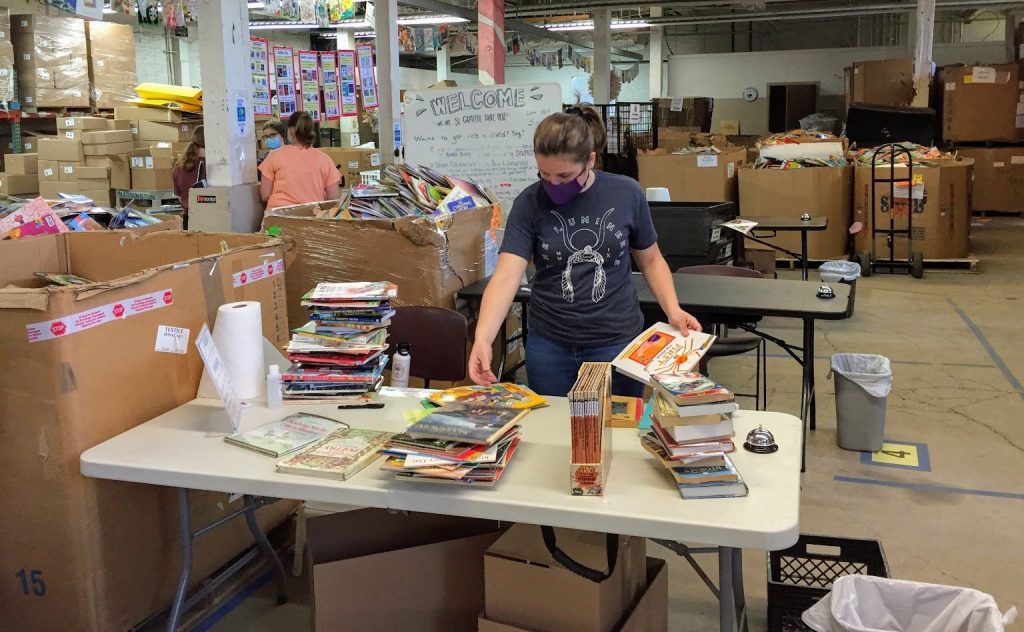 Give Your Gently-Used Books a Second Life
We welcome your donation of new or gently-used children's books! Whether you have a few books or a few boxes, we'll get them to local kids who need them. We ask that you only donate children's books in good condition with the latest copyright no earlier than 2000.
Books can be dropped off at our MidTown Cleveland warehouse Tuesday – Friday between 9am and 2pm. Please call us at 216-417-1803 when you arrive for a non-contact drop-off. Or, you can deposit books in one of our outdoor collection bins.
Outdoor Collection Bin Locations
Bay Village – Westerly Elementary
30301 Wolf Rd. (near school entrance)
Beachwood – Beachwood High School
25100 Fairmount Blvd. (across parking lot from pool building; NE corner next to recycling bin)
Brecksville – Hilton Elementary
6812 Mill Rd. (at the end of the parking lot near the recycling bins)
Chagrin Falls – Gurney Elementary
1155 Bell Rd. (near gym)
Cleveland – Kids' Book Bank
3635 Perkins Ave. (next to Loading Dock B)
Fairview Park – Gilles-Sweet Elementary
4320 W 220th St. (near front entrance)
Hudson – Ellsworth Hill Elementary
7750 Stow Rd. (along drop-off curb at front of building)

Lakewood – Lakewood High School
14100 Franklin Blvd. (outside door 35)
Olmsted Falls — KidsFirst Learning Center
26184 Bagley Rd.

Orange – Pepper Pike Learning Center
32000 Chagrin Blvd. (near tennis courts)
Rocky River – Don Umerley Civic Center
21016 Hilliard Blvd. (to right of entrance to Memorial Hall)

Solon – Solon Middle School
6835 S.O.M. Center Rd. (end of main drive near recycling bins/playground)
Solon – Dorothy Lewis Elementary School
32345 Cannon Rd. (west side of parking lot near recycling bins)
Strongsville – Strongsville Middle School
13200 Pearl Rd. (front of school near bike racks)
Westlake – Westlake Elementary School
27555 Center Ridge Rd. (outside faculty entrance on west side of building)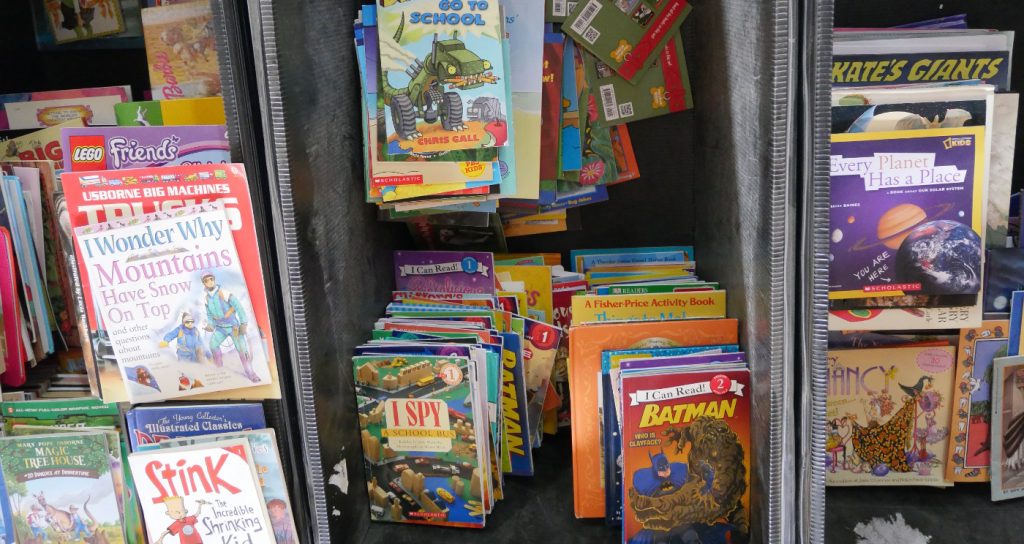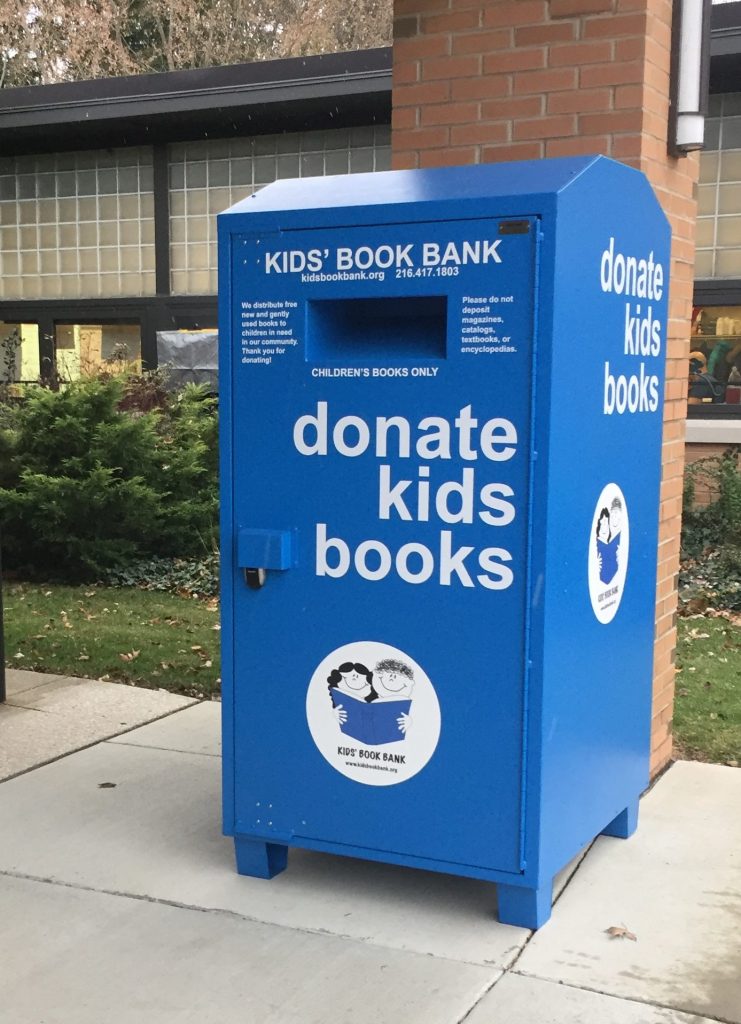 Stock Little Free Libraries
Filling Little Free Libraries is a Great Family Activity
Use your own books or pick up some from our warehouse, Tuesday-Friday, 9am-5pm.
Select 5-10 Little Free Libraries to fill.
Plan your route using our Little Free Library map.
Return extra books and/or damaged books removed from Little Free Libraries to us.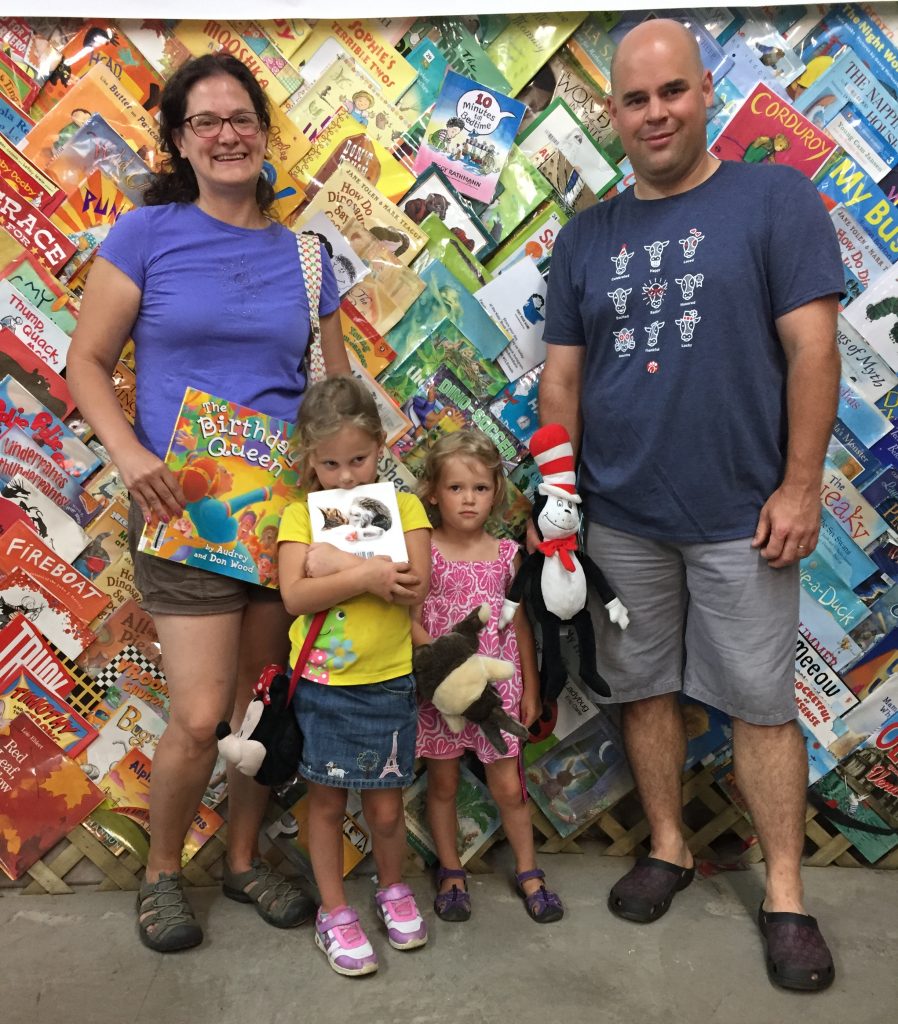 Book Collection Is a Breeze
We distribute up to 60,000 books per month, and our need for good-quality children's books is endless.
Our Book Drive Tool Kit makes it easy to run a book drive to collect children's books at your workplace, school, church, organization, or even in your neighborhood!
We especially need books for early childhood through 3rd grade and books showing diversity.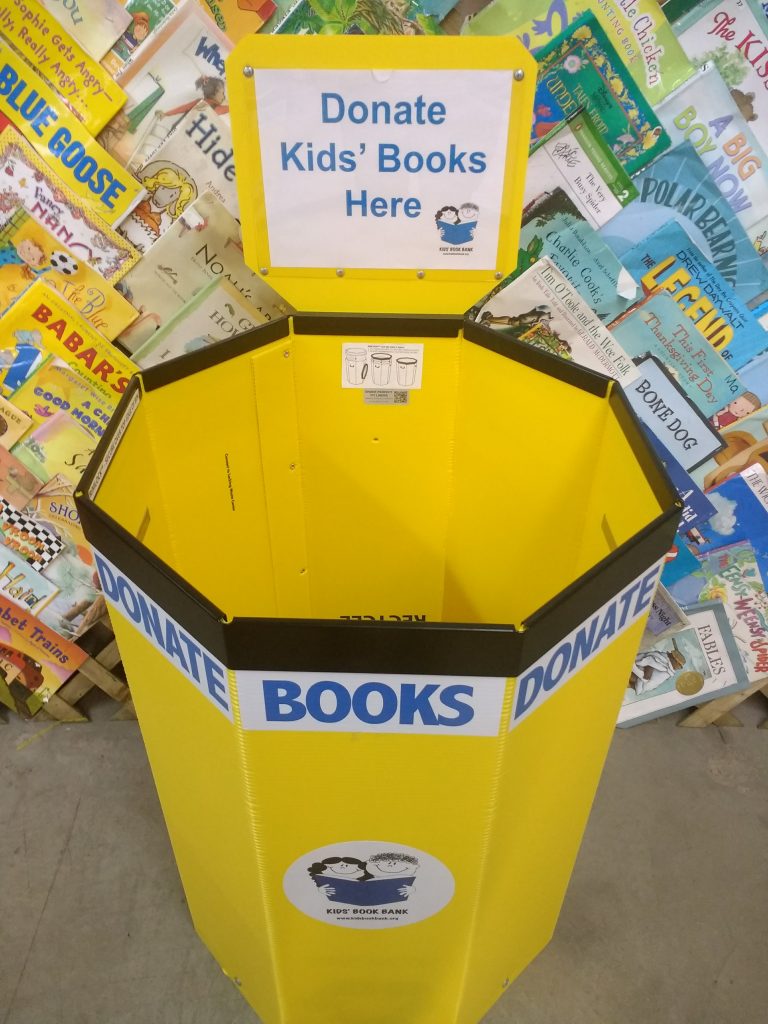 Volunteer From Home
We're excited to offer some new volunteer opportunities that can be done from home—ideal for groups or organizations!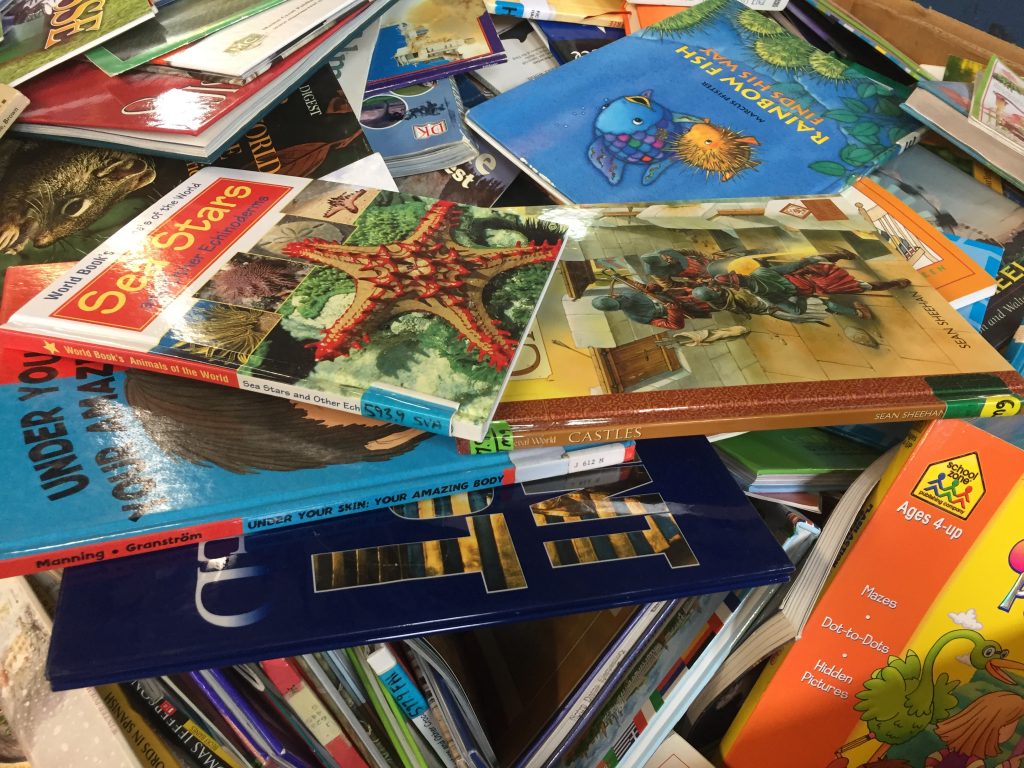 Thanks For Your Interest
Below are some common questions (and answers!) about volunteering at the Cleveland Kids' Book Bank.
If your question is not answered here, or if you need more information, give us a call at 216.417.1803 or email colleen@kidsbookbank.org.