We've reached a major milestone this month— 2 million children's books distributed!

The Giving Tree Keeps on Giving
Books are more than words—they bring us back to our own childhoods.
One of our distribution partners recently shared some special moments they see happening around our books everyday:
One of my moms said she loved The Giving Tree as a girl, and now she is excited to share that book with her child—you are impacting generations!!!
I set aside one of my own favorite children's books for a particular mom. She remembered liking it, too, and she is going to share it with grandma who always reads with the kids.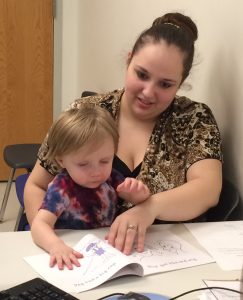 Books – 1 of the 4 Major Food Groups
Kids attending summer lunch programs are getting an extra treat—books of their very own to take home and keep!
All summer long, kids will enjoy nutritious lunches provided by our partner, the Greater Cleveland Food Bank, plus they'll select and take home free books!
Know kids who could benefit from the summer lunch program? Call 216-738-7239 to find a nearby meal site.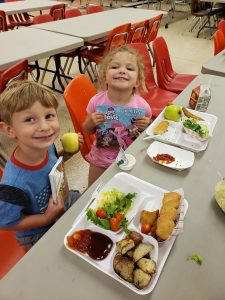 Showing Our Gratitude – With Books, Of Course!
What a treat to surprise WIC staff with books (as gifts)! Our Executive Director, Judy Payne, surprised WIC's staff of 65 with handmade note cards and their pick of a blind date with a book. Staffers reminded us of the kids we serve with their excitement at choosing a book!
Judy was also honored with a "Friend of WIC" Award." Cuyahoga County WIC Program is one of our largest partners and has distributed 200,000 books to date.
WIC serves mothers of children from birth to age 5—the most critical age range for brain development.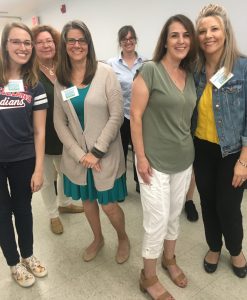 Board Member Ellen Mattingly Wins Platinum Senior Volunteer Award
Ellen has been with us from the very beginning, serving on our board in the role of pro bono human resources director, recruiting the right people for our team and ensuring an excellent work and volunteer environment. She also shares her talents with Hope for Honduran Children and has made three humanitarian trips to Honduras.
In her acceptance remarks, Ellen said, "I cannot imagine life without books. They have been a constant for me." Sharing that she grew up in a large family, she recalled, "When I was a little girl, there was a big tree on my grandma's farm in Kentucky. I would climb up there to hide and read."
We are fortunate to have Ellen on our team and are grateful for her tireless work on behalf of the Kids' Book Bank.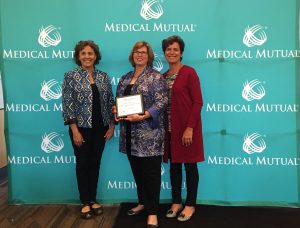 PNC Supporting Literacy
PNC is one of our most active corporate partners—groups of PNC employees volunteer regularly and love to talk books and sing along to our music while sorting books.
Their volunteer hours add up to generous "Grants for Great Hours" donations to the Kids' Book Bank.
This spring PNC collected books at all of their Cleveland-area branches—their donations to date total more than 4,100 books!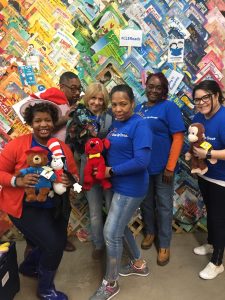 Summer is Critical – Can You Help?
We have a real need for book donations and volunteers right now to help us keep books flowing.
Easy ways to help:
Collect & donate books: Use our book drive tool kit to collect books at your business, church, or in your neighborhood, and encourage neighbors having garage sales to donate their leftover children's books!
Sort books: Join us for a 2-hour volunteer shift—or organize a group—to sort and pack books this summer. Sign up for a shift HERE.
Fill Little Free Libraries: Our Little Free Libraries are always in need of books. Pick up books from us, choose a route, and fill them up! Email Volunteer Coordinator Colleen Watt for more information and to volunteer.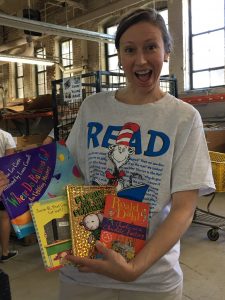 Young Professionals Books & Brew Nights
6pm-8pm
Kids' Book Bank
Tuesday, July 9
Wednesday, July 31
(more dates)
These popular events fill up early! Don't wait to register .
Bring a friend to sort books, network, and nosh. 21+ BYOB event. Light snacks provided.